ZENITH UNITES GEM-SETTING AND WATCHMAKING MASTERY IN THE DEFY HIGH JEWELRY SERIES
02.09.2019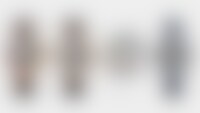 A jewel interpretation of the modern chronograph icon
Already a statement piece with its unrivalled 100th of a second chronograph movement and resolutely contemporary looks, the DEFY El Primero 21 High Jewelry pushes boundaries even further. With a rose gold case entirely set with brilliant cut white diamonds and the bezel with baguette cut diamonds, this rendition of the DEFY El Primero 21 turns the exceptional into outstanding.
And if diamonds aren't enough, the DEFY El Primero 21 High Jewelry Rainbow is as joyfully festive as it is an enchanting combination of watchmaking and gem-setting prowess coming seamlessly together. On the rose gold case, white diamonds of varying sizes are applied in a seemingly random pattern, in a technique known as snow setting. The bezel takes on the vibrant "rainbow" treatment, where 44 baguette-cut sapphires are meticulously picked and arranged in a progressive colour scheme that spans the entire visible light spectrum. This rainbow effect continues on to the open dial, where the hour markers are set with sapphires matching those on the bezel.
A skeleton with an alluring twist
Perfectly proportioned and boasting a uniquely conceived open dial and movement, the DEFY Classic has all the makings of the perfect daily companion. Making this modern icon even more outstanding is the DEFY Classic High Jewelry, with a titanium case set with brilliant cut-diamonds and baguette diamonds on the bezel. This bejewelled edition retains the signature ZENITH blue touches throughout, from the dial to the rubber and alligator leather strap.
Adding a spectacular pop of colour to this holiday season is the DEFY Classic High Jewelry Rainbow, which is all about capturing the beauty of light in all its wavelengths. As white is the combination of all colours, it serves as the perfect backdrop for the rainbow effect on the DEFY Classic, with 48 unique baguette cut sapphires on the bezel arranged by colour graduation, complemented by brilliant white diamonds on the titanium case for the perfect scintillating touch.
These rare gem-set versions of the DEFY collection will make their way to ZENITH boutiques and retailers around the world starting from October 2019 and are sure to make it to the top of Christmas wish-lists.
ZENITH: the future of Swiss watchmaking
With innovation as its guiding star, ZENITH features exceptional in-house developed and manufactured movements in all its watches, such as the DEFY Inventor with its monolithic oscillator of exceptional precision, and the DEFY El Primero 21 with its high-frequency 1/100th of a second chronograph. Since its establishment in 1865, ZENITH has consistently redefined the notions of precision and innovation, including the first "PILOT Watch" at the dawn of aviation and the first serially produced "El Primero" automatic chronograph calibre. Always one step ahead, ZENITH is writing a new chapter in its unique legacy by setting new standards of performance and inspired design. ZENITH is here to shape the future of Swiss watchmaking, accompanying those who dare to challenge time itself and reach for the stars.